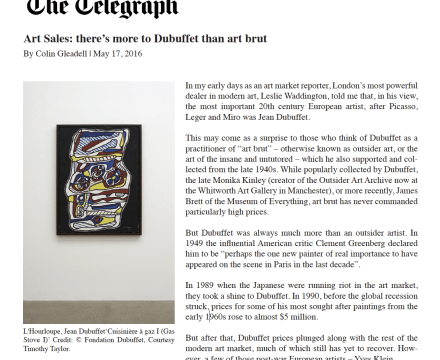 The Telegraph
There's More to Dubuffet Than Art Brut
May 17, 2016
In my early days as an art market reporter, London's most powerful dealer in modern art, Leslie Waddington, told me that, in his view, the most important 20th century European artist, after Picasso, Leger and Miro was Jean Dubuffet.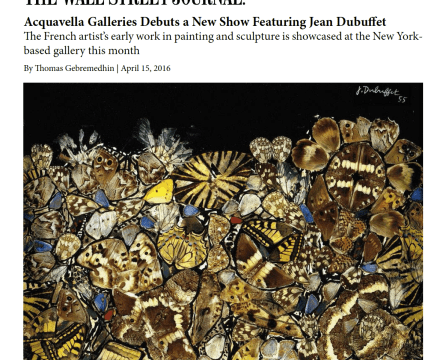 The Wall Street Journal
Acquavella Debuts a New Show Featuring Jean Dubuffet
April 15, 2016
The French artist's early work in painting and sculpture is showcased at the New York-based gallery this month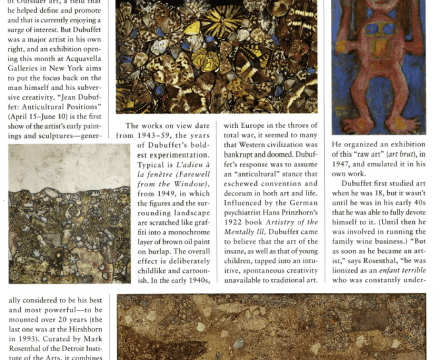 Art & Antiques
Earth Angel: Jean Dubuffet at Acquavella Galleries
April 2016
It seems that when Jean Dubuffet is mentioned, it's almost always in the context of Outsider art, a field that he helped define and promote and that is currently enjoying a surge of interest. But Dubuffet was a major artist in his own right, and an ehxibition opening this month at Acquavella Galleries in New York aims to put the focus back on the man himself and his subversive creativity.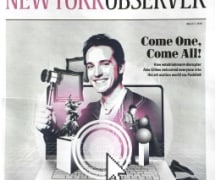 The New York Observer
Galleries Galore: Jean Dubuffet at Acquavella
March 7, 2016
Jean Dubuffet at Acquavella
If you're feeling down on you art career, read a little about Jean Dubuffet and take comfort. A French wine seller until he was 40, the artist didn't even show his work until he was 45, yet he became one of the more unique stars of the Modernist era. He began by championing the work of children and teh clinically insane in exhibitions he curated, but later began emulating these works as a sort of anti-social aesthetic study, if you will. This survey, which was organized by Detroit Institute of Arts' curator Mark Rosenthal, focuses on Dubuffet's first forays into art making and will draw works from the Met and the Guggenheim, as well as a slew of private collections. It's the first survey of his early work in over 20 years, so you might want to stop by.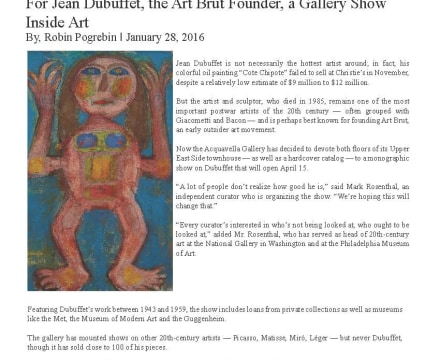 The New York Times
For Jean Dubuffet, the Art Brut Founder, a Gallery Show: By Robin Pogrebin
January 28, 2016
Jean Dubuffet is not necessarily the hottest artist around; in fact, his colorful oil painting "Cote Chipote" failed to sell at Christie's in November, despite a relatively low estimate of $9 million to $12 million
But the artist and sculptor, who died in 1985, remains one of the most important postwar artists of the 20th century — often grouped with Giacometti and Bacon — and is perhaps best known for founding Art Brut, an early outsider art movement.
Now the Acquavella Gallery has decided to devote both floors of its Upper East Side townhouse — as well as a hardcover catalog — to a monographic show on Dubuffet that will open April 15.
"A lot of people don't realize how good he is," said Mark Rosenthal, an independent curator who is organizing the show. "We're hoping this will change that."
"Every curator's interested in who's not being looked at, who ought to be looked at," added Mr. Rosenthal, who has served as head of 20th-century art at the National Gallery in Washington and at the Philadelphia Museum of Art.
Featuring Dubuffet's work between 1943 and 1959, the show includes loans from private collections as well as museums like the Met, the Museum of Modern Art and the Guggenheim.
The gallery has mounted shows on other 20th-century artists — Picasso, Matisse, Miró, Léger — but never Dubuffet, though it has sold close to 100 of his pieces.
"The moment is so right for Dubuffet," said Nicholas Acquavella, an owner of the gallery. "We will see so many young artists with their jaws dropped to see stuff they've only seen in textbooks. He's so relevant to what's happening today."
Dubuffet was famous for his materiality — where Rauschenberg worked with trash, Dubuffet used earth.
"He's the opposite of an artist who settled on a technique," Mr. Acquavella said. "He was constantly recreating the process."